Balla apartmenthause stands in the quiet street. P in court. /1 Ap. 1 car/. table tennis, badminton. Rent a bicycle. All ap. has terrace with garden furniture, grill, Tv sat., bathroom with douche, kitchen. Free Wifi.
Air conditinal 5 €/tag /Grate Ap, and Bungalow/
Wellness price: Sauna + jakuzzi 34 €/3hour/max. 6 people. 01st May - 01st Oct. only jacuzzi 7 €/1hour/max. 4 people.
Free beach /Golden beach/ 1000 m, Restaurant 500 m, shop food 300 m, city center 1700 m.
Price: 12 - 22 Euro /dependent - which ap.,how many pers.,how many day,when.
booking:ballaapartment@gmail.com
Apartments:

1.Little ap.
The big house on the ground-floor /for 2 personen + 1-2 Children/. The terrace on the groud-floor belongs to this. /grill, gardenfurniture/. This consists of kitchen /fridge, ventillator, hot plate, micro, percolator/, 1 bathroom, 1 room. In the room is one big double bed, and one chairbed for 2 persons
2.Great ap.
This apartment is in the big house, one staircase leds into the big terrace /grill, garden-furniture/. From here opens the entrance /for 4-6 persons + 1-2 Children/. This consists of one livingroom /25 m2/ TV sat. prpogr. / with a kitchen /fridge, hot plate, micro, percolator/ one bathroom and 3 rooms. In the 2 big rooms are 2-2 beds and 1-1 chair-bed. In the little room is one divan open to 2 persons. /Airconditional rent/
3.Bungalow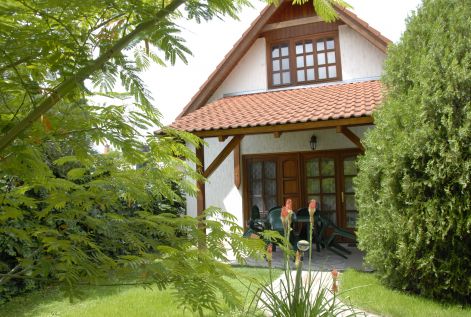 This is a chalet standing alone in the court. /for 4-5 persons/ On the terrace is garden-furniture, grill. On the ground floor is one kitchen /fridge, hot plate, micro, percolator, TV with sat. prog./ one bathroom and one bed-chamber with couble bed. One staircase interior leads up to the second room. Here is 1 couble bed + 1bed. /airconditional rent/ One airspace.
4.Holiday home
Siófok, Lipták G. Street 4. - 200 m from Balla apartmenthause.
The building plot is 500 m2, the holiday home is 55 m2. For 4-6 persons. This consists of one big room /double bed/ 2 little rooms /1-1 double bed to 2-2 Persons/, one bathroom /shower/, corner-kitchen, livingroom. In the kitchen are fridge, hot plate, percolator, micro, TV...In the garden are garden-furniture, grill. It isn't wifi.

Other Pfotos in Foto galeria.